skipsocrowd
What is it for
Product Development
Ask external innovators to collaboratively develop new products and services, significantly increasing output while reducing time to market and development costs.
Employee Engagement
Tap into the collective intelligence of your employees to identify new business opportunities, improve internal efficiencies and to create a culture of innovation.

Customer Insights
Your customers have the insights! Launch large scale crowdsourcing campaigns to get closer to your customers and to gather new ideas, insights or just feedback.
Video or Image Sourcing
Launch your video, design or branding campaign asking users to submit their unique concept or proposal and the community to vote or like their preferred submissions.
A simple and intuitive interface to help you, and your team, manage your end to end crowdsourcing platform and community.
Save time and resources with our private admin application designed to streamline all the activities of your crowdsourcing program from a central location.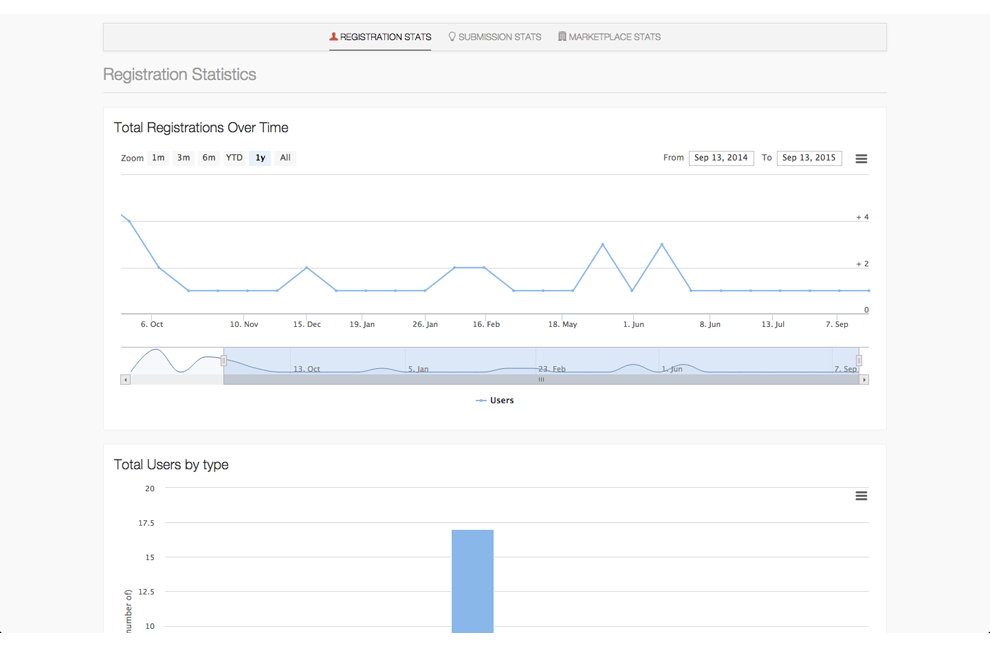 Complete reports and analytics on your key metrics
You have total control and ownership of the users who join your platform and we have built a set of tools specifically designed to help you manage your community of users throughout the entire program life-cycle.
Customize your crowdsourcing campaign
Having directly managed a number of open contests and crowdsourcing platforms we know that every initiative is different. Our system allows you to configure the crowdsourcing platform to match your exact requirements with a modular and easy to use set-up wizard.
Engage your crowd leveraging game mechanics to increase community participation and insight
Our system allows you to easily design and set-up your personalized gamification system: decide which user activities trigger points, set thresholds to unlock badges, enable public leaderboards!
A dedicated profile page for users to manage their profile and profile visibility.
A summary dashboard displaying each user's key activity indicators: ideas submitted, votes submitted / received, overall points and standings, badges.
A stream of live feeds displaying a user's activity.
Community users can submit their ideas using our highly modular and customisable submission form wizard.
Submissions can be saved as drafts and previewed prior to submitting.
Users to attach any supporting material to their idea: videos, images, documents or presentations. If you are looking to develop even further your co-creation environment, allow users to build their ideas on top of other ideas they liked.
Foster community activity and collaboration
Allow your members to comment on ideas, blogs, content and by doing so increasing their reputation.
Enable the voting scheme more suited for your crowdsourcing initiative and allow users to vote on ideas they like.
We use game mechanics to engage the community even further
Users earn points, badges and reputation by being active within the community. Our interactive leaderboards display top ideas and more active community members.
Secure access to a private application
where your team or other external reviewers can review and rate the ideas and submissions they like (these could be all the ideas, or maybe just a subset of the idea pool: e.g. the most voted by the community).
Simple and user friendly dashboard
A simple dashboard to easily see a snapshot of all submissions with an easy interface to search, filter and sort submissions by a number of criteria. We make it easy for your team to filter through thousands of submissions and pick the most popular ones.
Handy tagging system
To help reviewers organize and filter multiple submissions our platform allows to simply tag each submission with key words or to share comments with other team members.
Automated notifications
Allows team members and reviewers to set up automated notifications triggered when ideas that match their preferences and criteria are submitted.
SkipsoLabs helped us launch a complex global video crowdsourcing contest with heavy multi-media submissions in 8 different languages. Their ongoing technical support throughout the program was outstanding.
Diamara Parodi Delfino
EXPO 2015, Short Food Movie
SkipsoLabs supports our Open Innovation team at Electrolux by helping us reach out to global innovators and to scout innovative solutions within our core strategic product areas. SkipsoLabs' dedicated software platform delivers a clear and streamlined innovation process..
Chiara Ciardetti
Global R&D Electrolux Group
SkipsoLabs has supported our Cleantech Challenge Mexico website and contest platform for the last 3 years. It has always been a smooth and productive relationship. Their staff has always been very helpful and our platform has helped us manage our competition very efficiently..
Ingrid V. Sánchez
Cleantech Challenge Mexico Program Manager
Who Needs it
Businesses
To generate innovative ideas for their products and services by tapping into the expertise of internal and external communities.
Non-Profits
To tap into communities of experts worldwide that can help them find groundbreaking solutions to their challenges at an affordable price.
Government Agencies
To get closer to citizens, engage them, and gather their ideas and feedback in order to create a more open and transparent government.
Universities
That want to launch, run, and manage any type of business plan competition targeting students, alumni, and entrepreneurs.
How will this benefit you?

Innovate Faster
Tap into thousands of innovators from all over the world to find solutions to your challenges faster than ever before.
Have Peace of Mind
You can relax knowing that our software platform and experienced team will handle all the time-consuming tasks associated with running a competition.
Innovate More Cost Effectively
only pay for solutions that meet your specific requirements driving your innovation ROI with tangible top and bottom line results.
Keep Member Data Safe
You have full control and ownership of your members' data. Everything is completely private and totally secure within our enterprise-class infrastructure.